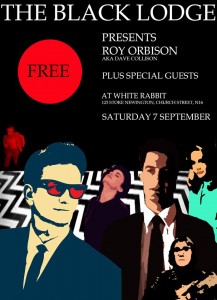 Dave Collison will be putting in an appearance as Roy Orbison at this David Lynch themed event on the 7th of September which is taking place in Stoke Newington, North London.
https://www.facebook.com/events/198224860341041/
From the event page:
Inspired by David Lynch's hit TV series, we will be playing songs from the show plus films such as Blue Velvet, Eraserhead, Mulholland Drive, Lost Highway as well as tracks by contemporary artists inspired by the world of Lynch. We will even play tracks born from the loins of the director himself including his new album 'The Big Dream'.
Live acts include Dave Collison and Bloody Bones with DJs, The B Ron Ron (96 Tears) and Gemma O'Brien (The Spirit of Andy Warhol)
Entry is free and all information is available on the facebook event page via the link above.