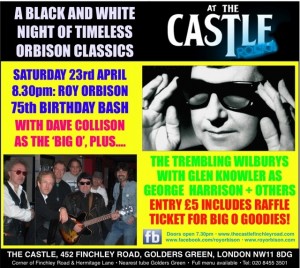 This is the official UK Roy Orbison 75th Birthday Bash with a full band show featuring Dave Collison as the 'Big O', plus the 'Trembling Wilburys' with Glen Knowler as George Harrison, who'll also be doing some solo George & Beatles songs. Plus a short support slot from our country singing pal Will Kevans. Entry only £5.00 (pay on the door), which also includes a free raffle ticket for special Big O goodies PLUS FREE ROY DVDs for everyone, courtesy of Barbara Orbison Productions.
It's gonna be a great night, so come on down if you're in London for Easter!!
(Corner of Finchley Rd & Cricklewood Lane)
Doors open 7.30pm. Show starts around 8.30pm.
Venue open till 1.00am. Full menu available. Kids welcome.
Lemonrock band page (with video & mp3s):
Roy Orbison UK merch store: