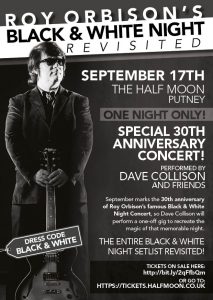 Join me for a special celebration of Roy Orbison's Black & White Night!
On Sunday 17th September, I'll be recreating the magical atmosphere of Roy Orbison's Black & White Night with a very special one-off concert in London at Putney's famous Half Moon.
September marks the 30th anniversary of the original Black & White Night Concert, where Roy performed a memorable set of his best-known songs with a host of other well-known celebrity friends, including Bruce Springsteen and Elvis Costello.
I'll be performing all of the songs from that memorable night in exactly the same order as the original setlist including Only The Lonely, Leah, In Dreams, Crying, Blue Angel, The Comedians, and many more of Roy's best known hits. It's long been a dream of mine to recreate the Black & White Night, so it's a real privilege to announce this special one-off event and I hope you'll come along and enjoy the gig.
We also have a special support act on the evening – Johnny Cash Tribute artist Rick McKay will be joining us and performing some of the late singer's best known songs.  Advance tickets cost £12, or £15 on the door. Tickets here: http://bit.ly/2qFfbQm